Is your home as cool as you would like it? Are you in need of a FAST, PROFESSIONAL AC repair? Home-Tech repairs ALL brands of heating and cooling systems. And for a limited time the First Call's On Us for the repair of your air conditioning unit.
How to Schedule
Call our Service Hotline – (800) 433-9740 
or Fill out the Request Service Form
or text "Repairs" to 55000
We can provide immediate aid to your home in Sarasota or Manatee Counties, 7 days a week. And, we offer emergency service when you need relief from the heat most.
Let's Get Your Home Cool
Home-Tech cares about your comfort. It is our first priority! 

AC Repair Testimonials from Home-Tech Customers
"Matt M. serviced our air conditioner last week. He was courteous and did a great job. The repair took hours in the heat. He got the work done and our air conditioner is working. Terrific!!"      M. Giamo
"Just a note to say that Aaron completed service on our A/C unit yesterday and did an excellent job. We can always count on Home Tech for professional service."      D. Dougherty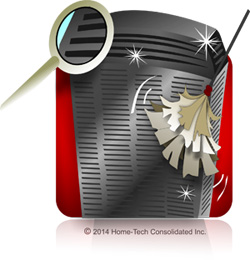 "A/C went out this afternoon, Shaun and Chet showed up promptly and figured out what was wrong and are ordering the parts for the heating part of the unit. They got the A/C part working again, so we are able to keep the house cool! Terrific guys that knew what they were doing. Can't thank you enough for hiring excellent employees!"       D. Langer
"James C  came out to do the maintenance on our air conditioner. He was very efficient, polite and asked if we were having any problems without being brisk. He was friendly without being pushy. I would recommend him to any of our friends. After some of the news stories lately we are uncomfortable letting just anyone into our homes – but not James."      D. Gill
The Importance of AC Maintenance
View Our AC Catalog