Our customers say it best. There is no other appliance repair company as talented in Sarasota and Manatee Counties as Home-Tech. Since 1981 Home-Tech has been training its technicians to repair all kinds of major appliances, washers, dryers, refrigerators, dishwashers, water heaters, ranges, and microwaves quickly and to your satisfaction.
How to Schedule
Call our Service Hotline – (800) 433-9740
or Fill out the Request Service Form
or text "repairs" to 55000
A friendly, knowledgeable technician will come to your aid and have your appliances up and running again in no time. And if you would like your service call charge at NO CHARGE ask about our First Call's On Us offer for brand new customers. Call today!



Customer Appliance Repair Testimonials
"We had the first service call from Home-Tech today and were pleased-both with the promptness and the way the tech handled the entire situation. Shawn could not have presented himself and the company any better explaining every step. Good experience."
B. Cheney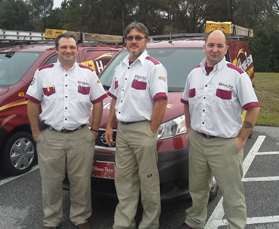 "I have been a customer of Home-Tech for over 12 years. During this time I have used your services and have purchased A/C's, refrigerator, dish washer, hot water heater, etc.  Steve has been here a few times including today. I wish to commend Steve for his technical knowledge, work ethic and social friendliness. I have been in Engineering Project Mgt. most of my work life and he would be the type of person I would employ."
C. Eiswerth
"Ryan T. came to my house to check on my complaint that my new Samsung refrigerator which didn't seem to be cooling /freezing properly. He was very professional and listened to all my discussion. Then he contacted Samsung and meticulously checked all the sensors from the back of the unit. It seems to be fine now. Maybe I jumped the gun. Thanks just the same."
D. Karrer
Home-Tech has an A+ rating with the Better Business Bureau. We invite you to review us there or on our Google Page.
*Same Day service for emergencies when possible.