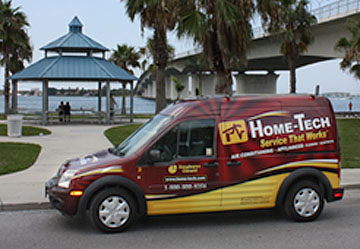 To learn that there's actually a day set aside every year to celebrate ugly trucks (yes, "National Ugly Truck Day" actually exists) may come as a surprise to some, but perhaps not to those of us who live in the South. Sure, we've got plenty of northern transplants here in the Sarasota/Bradenton area, but geographically, we're still in the Deep South where trucks are plentiful and ugly trucks make for some fun sight-seeing.
Ugly Truck Requirements
When spotting ugly trucks, here are some signs to look for:
The higher and muddier the wheels — the better.
Extra points if it's covered in camouflage paint.
Rust is a plus!
A ridiculously enormous iron grill is always an eye-catcher.
If there are several people riding in the bed of the truck drinking Pabst Blue Ribbon, it definitely qualifies.
Home-Tech Trucks Improvement
Here at Home-Tech, we're always trying to improve things – even our Home-Tech trucks that are used for appliance and ac service. Our first ever truck from the early 80's was a deep burgundy with yellow lettering. A later design was a bit more high-tech, with a fancier grill, ladders on the roof, and a sharp, clear logo that stood out. And our latest design is our favorite – it's a wrap with the same signature burgundy and yellow colors and with just enough flair that it stands out in a crowd. Thanks to Sign Zoo in Bradenton for being our wrap provider. And most importantly, it's a welcome sight to see rolling down your street when you've got an appliance down for the count.
Gold or Silver – Pick Your Color
Improvement – not just in our Home-Tech trucks – but also bringing improvement to your home and lifestyle, and that means Service Agreements. There's simply no better way to go than with a Gold or Silver Service Agreement from Home-Tech. We've all seen it on Facebook – a Saturday night status update from a friend: "Help! Our Air-Conditioning died and it's 90 degrees out. Does anyone know of an A/C guy who will come out on a weekend?" Uh-oh.
Guaranteed, Fast Service
With a Service Agreement from Home-Tech, you'll never have to worry about being put in a position like that. Just call us at 800-800-8356, 24 hours a day/7 days a week, to see one of our sleek, colorful Home-Tech trucks pull up in your driveway. And, even better, the First Call's On Us!
At Home-Tech, we're all about improvement – one truck – and one appliance at a time.