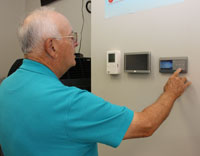 Why does Home-Tech call the air conditioning system an INDOOR COMFORT SYSTEM?  Because the system performs more than just the one function of cooling your home. In fact, a properly installed system performs 4 major functions that together provide TOTAL indoor comfort.
Function 1 – The Cooling Function
Your indoor comfort system should cool and dehumidify the air, keeping your home in the range of 72 degrees to 76 degrees and 50 percent to 55 percent relative humidity. Is your home cool enough?
Function 2 – The Heating Function
Whether you have a HEAT STRIP or HEAT PUMP your indoor comfort system should provide warm comfort, keeping your home within the range of 68 degrees to 72 degrees on those rare cool Florida days. Have you been comfortable in your home on the cooler days?
Function 3 – The Distribution Function
The most hidden and misunderstood function is AIR DISTRIBUTION. Properly sized and installed duct work keeps your home quiet and evenly balanced with all rooms maintaining the same temperature.  Are you finding that every room of your home is a comfortable temperature?
Function 4 – Air Quality or Cleaning Function
Did you know that in the average home over one million cubic feet of air passes through your system every 24 hours? A properly equipped Indoor Comfort System should provide consistent clean air quality, keeping your home free of odors and air born allergens, such as pollen, dust, pet dander and mold spores. Are you or any family members suffering from any allergies?
You see, a properly installed Indoor Comfort System by Home-Tech not only cools, dehumidifies and heats the air but quietly distributes this conditioned air evenly to every room of your home while washing and filtering every cubic foot that passes through the system. If you have issues with your indoor comfort system or just feel it's not quite up to par, we're here to help. With Home-Tech feeling is believing.  Check out our Air Conditioning Catalog.  Contact one of our comfort specialists to assist you or submit our online form.