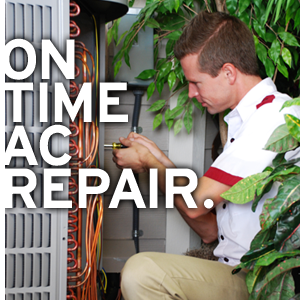 "Be Late for Something Day" was on September 5th, so in honor of the unofficial holiday, your faithful Home-Tech blogger ("blogess?") is late with this post – or shall we just say tardy…
We Meet the Time Frame
When it comes to repairs though, Home-Tech never celebrates "Be Late for Something Day". That's because we pride ourselves for on time air conditioning repair, being there in the given time frame. Not only that, we keep our customers posted with updates as to how far away our technicians are and when they can expect us. Our Dispatch Department is constantly busy communicating with our technicians while they're on the move and we depend on advanced GPS systems to skirt around the Sarasota/Bradenton traffic delays to get our service truck into your driveway as fast as possible.
Troublesome Tardiness
Unfortunately, not all companies hold steady to the belief that being on time is everything. There are plenty of horror stories about late repair folks, but Lori, who lives in a condo in Sarasota is still steaming about her recent experience with a local company that we won't name – in fact, let's just call them "Tardy, Inc.".
When Lori woke up on a recent morning in a pool of sweat, she checked her thermostat only to learn that it was 82 degrees in her condo (and a sweltering 90 degrees outside). She immediately pulled the blinds, cranked the ceiling fans up, and turned off every light bulb in order to hold onto the few breaths of cool air that remained. She called Tardy, Inc. because a friend's brother works for them and she wanted to give them her business, but good intentions were not rewarded. When she called at 9 a.m., she was told the repair person would be at her condo before 5 p.m. – that's an 8-hour window (at Home-Tech, we stick with a much more manageable 2 – 3 hour window). Given the broad time frame, Lori had to call into work, but still she believed the 8-hour window was just a formality and that surely Tardy, Inc. would make it well before 5 p.m. When a repair person finally showed up at 5:45, Lori's condo was boiling and so were her nerves. And, you guessed it, her air conditioning unit needed a part — a part that Tardy, Inc. wouldn't be able to get until the next morning because it was too late in the day.
Service Like Clock Work
"We had service by Brian S and he did such a wonderful job.  He called before he came here, he was on time. Polite, quick everything was clean when he left. We just can't say enough about him. Thank you."
J. Owens
"My schedule today for service was from 8 to 10am.  Brian arrived promptly at 8am, introduced himself and went directly to the refrigerator to install a new motor for the ice dispenser. He was efficient very pleasant, answered any questions we may have asked and had the job done with no problems. May I add that we find this true of all the technicians whom we've dealt with.  Thank you for your excellent service."
P. Oddo
"This morning I had Chet from Home-Tech come and service both my AC and garbage disposal.  He was here on time, punctual, first thing this morning. He was very professional,  respectful and did a great job, cleaned up and everythign was perfect.  He represents the company very well and I was very impressed with Chet."
M Shay
We Don't Want You to Be Late For Something
"Be Late For Something Day" means nothing to the Service Department at Home-Tech because if we're late for something, it means you're going to be late for something – and that's bad business, better left for companies like Tardy, Inc. At Home-Tech, we do our best to be there right in the time frame.