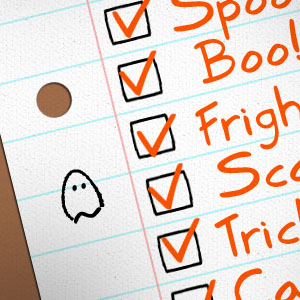 Here's hoping that you're enjoying this sparkling season of spookiness and that you're resisting all the Christmas tinsel in the stores and instead, making sure you're stocking up on Halloween décor and treats. And if you're planning a ghoulish gathering, Home-Tech wants to make sure you're prepared – so we have a Halloween Checklist for you.
A HOT Halloween
There's nothing more frightful than having your guests carefully applied scary monster make-up melt off when your air-conditioner goes to the great beyond midway through the party. It may be autumn in the rest of the country, but Southwest Florida hasn't gotten the memo yet, so make sure you call Home-Tech at 800-800-8356, so we can do a complete Clean and Check on your system. The high temperature on Halloween is scheduled to be 90 (you may want to consider wearing a devil costume, as it WILL be sizzling) and we want to make sure everything is in working order – our Clean and Check is the most thorough you can get!
HalloWINE
We've got some fun stuff for your Halloween party that will also have you prepared for your upcoming holiday gatherings, too — like great savings on a KitchenAid Beverage Center (model #KUBL204EPA). The design is sleek and not only does it have room for 14 bottles of wine, it has space for other beverages as well (Pumpkin Beer anyone?). You can shop even on a spooky midnight for appliances in our online store. 
Devilish Draft
Speaking of beer, nothing brings more fun to the festivities than a Kegerator! These top of the line beer draft beer dispensers feature thermoelectric cooling, plus they're convenient, attractive, and a Kegerator means no muss, no fuss. When the adults come around with the kiddies trick or treating, why not offer them an ice cold pour?
Trick or TREAT?
Finally, make sure your Halloween checklist includes a sweet party treat for your fabulously fiendish friends. Your faithful Home-Tech Bloggess (that's me!) attends a Halloween Party every year where the hostess serves up this super easy snack:
Terrifyingly Tasty Tumbleweeds
Ingredients
1 package (11 ounces) butterscotch chips
2 tablespoons creamy peanut butter
1 jar (12 ounces) dry roasted peanuts
1 can (4 ounces) potato sticks
Directions
In a microwave-safe bowl, melt butterscotch chips and peanut butter; stir until smooth. Stir in peanuts and potato sticks.
Drop by tablespoonfuls onto waxed paper-lined pans. Refrigerate until set. Store in an airtight container. Yield: 5 dozen.