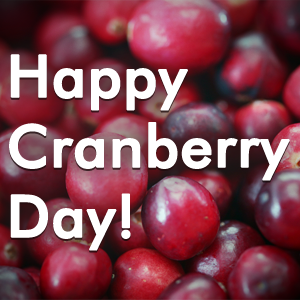 What is it about the week of Thanksgiving making it so hard to think about work? We're already obsessed with thoughts of turkeys, pumpkin pie, and football. It's almost like most of America is already in a pre-food coma. This pre-holiday daze isn't just limited locally to the Sarasota and Venice area – nope, you're not alone – it's everywhere. Appointments, meetings, returning e-mails, and concentrating on anything except the upcoming holiday ends up on the back burner. So, it's a good thing there are some holidays to observe as we get closer to the main event – like National Eat a Cranberry Day the week of November 23rd.
Celebrating the Amazing Cranberry
We think of cranberries as a Thanksgiving and Christmas staple, but we should enjoy them more than twice a year. Cranberries are a rich source of healthy anti-oxidants and excellent for your immune system and research has shown that cranberries can help combat urinary tract infections as well as ulcers – they even help protect our cardiovascular systems and livers. So, not only are cranberries tasty and delicious, they could help us live longer – and at a mere 50 calories a cup, there's no guilt involved!
In The Kitchen with Cranberries
So, as you wait for turkey day, let's celebrate National Eat a Cranberry Day with some tasty treats! And if anything goes wrong with any of your appliances we are here for you for your repair needs.
Jalapeno-Cranberry Relish
Ingredients
1 12-ounce bag cranberries, fresh or frozen (thawed)
1 teaspoon lime zest
2 teaspoons lime juice
1-2 fresh jalapeños, seeded and coarsely chopped
2 tablespoons minced red onion
1/3 cup sugar
2 tablespoons extra-virgin olive oil
Pinch of salt
Combine cranberries, lime zest, lime juice, jalapeño to taste, onion, sugar, oil and salt in a food processor. Pulse until coarsely chopped. Let stand until the sugar has dissolved, about 10 minutes. Transfer to a serving dish. Serve at room temperature or cover and refrigerate until cold.
Cranberry Frozen Yogurt
Ingredients
3 cups cranberries
3 tablespoons honey
¼ cup blackberries
1 cup plain yogurt
2 teaspoons vodka
Place cranberries and honey in a pan. Cook until cranberries release their juice stirring occasionally. Simmer for 8-10 minutes and put aside. Let it cool.
Sieve it into a bowl, pressing the cranberries with the back of a spoon.
Pour it into a food processor. Add in the blackberries, yogurt and vodka. Mix well.
Cover and chill for 3 hours.
Stir well before transferring it into your ice cream maker and freeze in the ice cream maker according to the manufacturer's instructions.
Pan-Seared Brussels Sprouts with Cranberries & Pecans
Ingredients
1 pound brussels sprouts, de-stemmed and halved
2/3 cup fresh cranberries
1/3 cup gorgonzola cheese, crumbled
1/3 cup pecans
1/2 cup barley
1 tablespoon maple syrup
1 tablespoon balsamic vinegar
Olive oil
Salt & pepper
Prepare barley according to package instructions. Heat brussels sprouts, cranberries, and olive oil in a skillet over medium heat. Season with salt & pepper. Cook for 8-10 minutes.
Add balsamic vinegar and maple syrup. Stir to coat and remove from heat.
Toss barley, sprouts, cranberries, and pecans in a large bowl. Top with gorgonzola.
Thanks to eatingwell.com and Country Living magazine for the recipe inspiration. Now, do yourself a favor while you wait for turkey day – eat a cranberry!