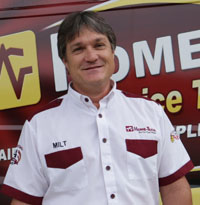 We have heard from a LOT of Home-Tech Members the past few weeks through our Attaboy program.  We keep hearing the same theme over and over again in the praises. Home-Tech hires GREAT PEOPLE. You may wonder how Home-Tech attracts such great employees. Our company has a different model – employee ownership.  The employees have a stake in the success of the company and that makes all the difference to you, the customers. Employee owned Home-Tech thanks you for the great reviews!  Keep them coming!
M. Bailey
I have been a Home-Tech customer for several years and in my opinion they are an absolutely fantastic company. Home-Tech has always been able to accommodate me quickly. The service people are always very nice and professional. These are good guys, and they all seem very trustworthy.  The office staff and the technicians are great. The technician that has helped me most recently is Milt and he is fantastic. I have the Gold Service Agreement and it has saved me a boat load of money on appliance repairs over the years. And I feel less stress just knowing that I can call one company for almost anything that goes wrong in my home. I am truly a Home-Tech fan. If you have a broken appliance I would suggest giving them a try. They are absolutely worth the money.
B. Sanders
Hello.  I would just like to thank Home-Tech for hiring great people.  Today I had an appointment for an annual A/C checkup and I was fortunate that you sent Jason to do the checkup.  Great guy – neat, clean, polite, knowledgeable and positive attitude.  He arrived within the time window I was given and immediately explained to me and my husband what he was going to be doing – process/time, etc.  He was so pleasant and efficient in his work.  I just love working with Home-Tech – you all hire the best people. Please thank Jason for being so nice and doing a great job.  Another satisfied customer!
P. Garinger 
I would like to commend James C. He has come to our home to fix our air conditioner and washer at different times.  He is always prompt, courteous and explains in detail what he needs to do to take care of the problem.  It is a pleasure to have him in our home and I know James will always do a good job for us.  Thank you James and Home-Tech for  having such professional employees in your organization.
S. Spielberg
We can always count on Home-Tech for excellent, timely, professional service.  Thursday was no exception.  Daniel was here for our annual A/C service and he did a great job!! Thanks Home-Tech for hiring the best!
A. Schwindt
I had called for my yearly A/C service and Alfy arrived on schedule.  He first changed  my batteries in my thermostat and all the filters throughout my house, then went to the garage to do some further checking on my A/C unit.  He found the system was needing a charge of 3lbs. of R110A coolant.  He added the coolant and explained to me what he was doing throughout his maintenance process. He was such a cordial and pleasant  technician; knowledgeable and you could tell he enjoyed what he does, plus he answered all my questions.
I always feel good about having a Home-Tech employee come to service my home appliances.  They make me feel good about my equipment and know that I can depend on Home-Tech for any problems that I may encounter.  Appreciate your employees and how they are treated as employees of a great company in SW Florida.  Keep up the good work!
K. Piccolo
A huge thanks to OMAR and TYLER who spent much of their day at my house repairing my AC system.  They worked diligently and professionally to complete all the necessary repairs and installation of replacement parts.  Thanks to them, my home is once again cool and comfortable; yet another satisfying experience with Home Tech and their employees!
N. Heisner
Just had Steve here to do some checking on our air conditioning.  He was very pleasant and did a great job.  Will ask for him with whatever situation we have.  Thanks for having men like him work for you.
R. Barnhart
Just had a service call by your technician Edwin. He is one of your best!  Always pleasant and knowledgeable. He certainly contributes to the high quality I expect from Home-Tech.
A. Goff
Just had service on ice maker. Tech EDWIN  introduced himself, quickly diagnosed the problem, explained the sequence of repair and proceeded to effect repair. he had the necessary parts  and tools on the truck. MOST IMPRESSED WITH TECH AND THE QUALITY SERVICE.
J. Pistor
Hi. Leo came to my home to do a yearly check on my air conditioner. He called when he was on his way and was very pleasant when I answered the door. Answered all my questions and was very proficient at his job. Thank you for having such great guys work for you. Love it.
S. Robbins
After suffering 12 hours with no working A/C, it was such a joy to have JOE come to the rescue.  Not only did he fix the problem, but he was very informative about everything, cleaned up afterwards, and offered helpful suggestions.  I have always trusted your company and I knew I could trust him. Thank you!
I've been a happy Home-Tech client for over 10 years.  Every time I call on one of their techs for regular maintenance or service repairs, they show up on time, they work hard and are very friendly and professional.   What I appreciate the most about every Home-Tech technician, is that they explain the work that they are doing.   They are very transparent in making sure I understand what needs to be done and they always provide helpful tips that I can use to keep my appliances in good working order.   I worked with Home-Tech to replace and upgrade my HVAC system in 2012, which again was a great experience in how they kept me informed and consulted with me to make sure I was completely satisfied.   I do want to extend a big thank you to Matthew who visited today for our annual AC clean and check.   His attention to detail and friendly service is a great example of why I continue to be satisfied and impressed with this company.    Thanks very much Matt and the rest of the Home-Tech team, for consistently providing me with such outstanding service!
H. Disken
The other day our home-tech guy came out to check everything out as we just uped our contract in July.  His name is Dan and i would like to say that he was quick, on time, and very knowledgeable .  Thank you all for hiring such great individuals.  Looking forward to next year and hoping all is well with you.
L. Balestra
Steve just made a call to repair the microwave turntable motor. He quickly diagnosed the problem and retrieved a replacement from his truck. Within minutes he had replaced the turn table motor and had the microwave working like new again. Thank you to Steve. It is a pleasure to work with the home tech personnel in the Sarasota/Bradenton area. You have great office personnel and field technicians who are also great people. Thanks