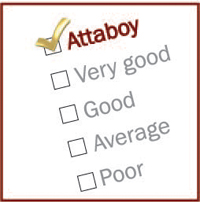 Air conditioning system service reviews are important especially when you are trying to decide which company to go with. Home-Tech provides review opportunities through our Attaboy program, where our customers are invited to call in or email about their experience with their technician. We really appreciate the feedback and what we learn from our customers influences the training of our new and current technicians. There are many air conditioning companies in Sarasota and Bradenton, but not everyone has technicians who are uniformed, in clearly marked trucks, background check and drug tested.  And every technician is NATE certified. You can trust Home-Tech to provide you with a well trained technician that will respect you and your home.  Today's "Attaboys" are about Matthew. Way to go, Matthew!
5 Out of 5 Stars
Matthew serviced my AC/Heating system. It was a pleasure to have him here. He not only provided service but gave me a couple of tips for setting them when I am out of town and suggested filters that I could use instead of the reusable one he provided. I would give him a 5 out of 5 stars.
A. Camaiani
Reliable and Honest Repair Work
I had the pleasure of meeting Matthew and his associate this morning as they did the service on our air conditioning system. The were very polite, professional and personable. The service was done quietly, quickly and I am confident in their work.
Everyone from Home Tech who has ever come to our home for service was polite and professional. I would recommend Home Tech to any one who is looking for reliable and honest repair work.
Sincerely,
T. Tunney
Thorough and Professional
Kudos to Matthew who inspected and cleaned our air conditioning system this morning. We have had this work done by Home-Tech in the past, but never more thoroughly than today's effort by Matthew. He is not only competent and thorough, but professional and very capable of establishing rapport with the customer. I hope that he is with Home-Tech for a long time.
Thank you!