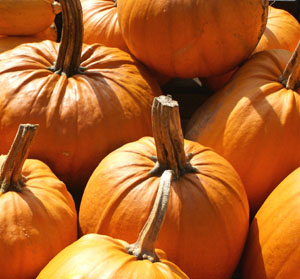 It's officially Pumpkin Month – and that means that all of us are pretty much required as Americans to purchase at least one Pumpkin Spice Latte before the month is over. And it's not just lattes – pumpkin-flavored everything gets trotted out in our restaurants and grocery stores all month long. Dairy Queen has a Pumpkin Pie Blizzard, there's a host of pumpkin flavored beers, there are now Pumpkin Spice Oreos, and even Pumpkin Peeps  (Peeps aren't just for Easter anymore, apparently). Not only that, there are Pumpkin Pie Pop Tarts, Publix has Pumpkin Pie Ice Cream – and wait for it – yes, there's even Pumpkin Pie vodka (which actually might be pretty tasty in your Pumpkin Spice Latte).
Why Only One Month of Pumpkin?
The funny thing is, pumpkin flavors are available all year long. If we're this over the moon about all things pumpkin, why aren't we enjoying pumpkin foods in, say, April? As someone who is happily on the pumpkin bandwagon, I vote that we enjoy pumpkin flavored everything all year round. Why limit ourselves to only one season of pumpkin delights?
Chill Out with some Pumpkin Cheesecake
With a great refrigerator from Home-Tech, you have plenty of room for all your store-bought pumpkin deliciousness – or your pumpkin creations. We boast fabulous, state-of-the-art refrigerators from some of the best manufacturers like Bosch, G.E., and Maytag. Stop by our showroom and take a peak. And by the way, did you know that this week, we celebrated National Pumpkin Cheesecake Day? There's also a National Artichoke Hearts Day, but it doesn't sound nearly as festive. Honor the day by trying out this fantastic (and super simple) Pumpkin Cheesecake – and if you don't eat it all in one sitting, put the rest in your refrigerator from Home-Tech (or bring it to our offices, as it would look perfect in our break rooms).
Ingredients:
8 ounces cream cheese, softened
1 cup canned pumpkin
1/2 cup sugar
1/2 teaspoon pumpkin pie spice
8 ounces whipped topping
1 (9-inch size) graham cracker crust
Directions:
Beat first four ingredients with mixer on medium speed until well blended. Gently stir in whipped topping. Spoon into crust. Chill 3 hours or overnight. Garnish as desired.