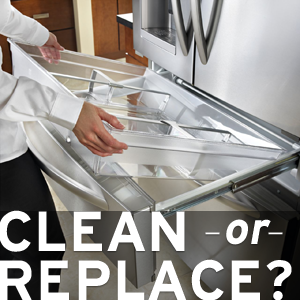 It started last week with the mustard. My husband was watching the Golf Channel on Saturday afternoon while enjoying a ham and cheese sandwich. I was somewhere in the vicinity of the refrigerator when he asked me to please grab the mustard. I looked inside and started with the door shelves with no luck. I moved salad dressing bottles, two different brands of soy sauce, and even found an empty bottle of ketchup, but alas, no mustard – and we KNEW I had some, I had JUST bought it.
Clean Your Refrigerator or Get a New One?
On the second shelf, things became more suspect – there, I discovered a small lunch-sized container of tangerines that expired in April, along with a hard-boiled egg that I had no recollection hard-boiling. There was a jar of capers with only one left, therefore, actually just a jar of caper. An empty bottle of olives with only juice inside – obviously I must have been thinking of a future martini. I checked the top shelf of the fridge for mustard and found four large cartons of coconut water. We don't even drink coconut water, but we bought it because BOGO. The second shelf yielded two expired containers of blueberry yogurt and a jar of peanut butter missing a lid, but still no mustard.
Refrigerator Dreaming
As I walked next door to borrow mustard from my neighbor, I wondered about my poor, messy refrigerator. Would the weight of all that expired yogurt cause a shelf to break and require repair? Could I just talk my husband into the idea of starting fresh with a brand new, clean refrigerator from Home-Tech? Could I get him to the Bradenton showroom on Lena Road to check out new models from Bosch, Maytag, Frigidaire, and especially the Thermador models? A new refrigerator would surely prompt us both to be neater, more organized, and more responsible mustard owners… When my neighbor and I got to talking over borrowed mustard, she suggested that I just clean the refrigerator that I already own. I told her that sounded like the most boring idea ever.
As I walked home, I continued to fantasize about a new refrigerator from Home-Tech, and when I opened the fridge door to put the borrowed mustard in, there it was – that yellow bottle, in plain sight, just behind the Miracle Whip.
I still think it's time for a new refrigerator.
If you decide to take a different path than me and actually clean your refrigerator, here is a very helpful article with great tips as to how to do it quickly and easily.