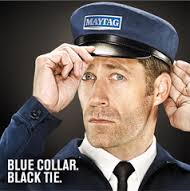 This one's for the ladies — can you believe there's actually an official Men Make Dinner Day? Seriously. Just one day — one day out of the YEAR – and sadly, it slipped by me a couple of weeks ago, or I would have been ALL over that brief 24-hour period, believe me.
As it is, Men Make Dinner Day happens at our house a tiny bit more than once a year, but not by much. Mostly because when my husband chooses to cook, he cooks what HE wants to eat — meaning stereotypical manly fare. Me, I'm busily baking fresh fish in a perfect marinade I found on Pinterest, gently steaming perfectly seasoned locally grown vegetables from the farmer's market, and painstakingly researching the best wine to pair it all with. By contrast, my darling husband is happy to thaw out a frozen pork loin and throw it in a frying pan until it's pink-ish. The sides he "prepares" are tin cans of great northern beans, French style green beans and two pieces of buttered toast. Every single time.
My, What A Big Handle You Have!
I'm truly not complaining — he's a guy and he's hungry. Dinner isn't brain surgery to my husband, but it hasn't stopped me from wondering that maybe if we had a more masculine kitchen, he might possibly be inspired to get more creative. For instance, what if I took him to the Home-Tech appliance showroom and got his testosterone flowing with the new line of Maytag appliances for the kitchen?
Maytag Appliances – Very Manly
This manly new line features all the dependability of the classic manufacturer that you've known and trusted over the years, but let's just say, they've rolled out some new designs that have a Viagra-induced vibe — cylinder handles on refrigerators and ovens are bigger, thicker, and more sturdy looking than ever. The new commercial grade feel may very well bring out the man in your life's inner Anthony Bourdain.
Faced with these brawny, strapping Maytag kitchen appliances from Home-Tech, men may celebrate Men Make Dinner Day EVERY DAY. Next thing you know, your fellow might even starts scrolling Pinterest for recipes. Fingers crossed!