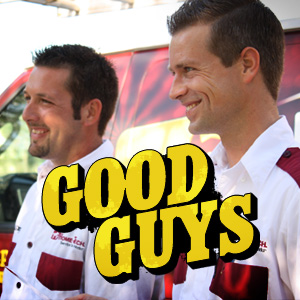 Do good guys exist?  We've all said it, especially the ladies:  "Where did all the good guys go?" And it's true – it seems like these days, we're hearing so much about bad guys – whether it's a politician caught doing something inappropriate or the grumpy fellow next door, yelling at the neighbor kids to get off of his lawn — sometimes the negativity can be daunting.
Where Have All The Good Guys Gone?
At Home-Tech we love hearing about the good guys – and fortunately, we have plenty of them on our amazing team of technicians. Not only can they handle fixing your refrigerator, air conditioner, stove, and other major appliances expertly and with a smile, our guys go the extra mile. They're the good guys.
Representing Home-Tech With Pride
When our guys get into one of our signature Home-Tech service vehicles and go out into the neighborhoods of Sarasota, Bradenton and Lakewood Ranch, they're proud to represent Home-Tech. Sometimes, they're called upon not just to repair or check an appliance — sometimes there's more to it than that. You could call it random acts of kindness, but honestly, our technicians would tell you it's just about being a good guy.
One technician reportedly helped a customer who lost a piece of jewelry by getting down on his knees and scouring her lawn. Some of our good guys have helped carry in groceries for our customers. If a technician finds himself on a roof as part of an air conditioning check, he's been known to clean out a gutter or two while he's up there. They have even  stopped on their routes to help folks who have been in accidents – and while at customers' homes, they've happily changed hard-to-reach light bulbs just because. One of our good guys arrived at a customer's house only to find them ill. Upon learning they had no family or friends nearby, he called for assistance.
Random acts of kindness – or just doing the right thing – either way, there are still some good guys left and we're proud to say that they wear the Home-Tech uniform.
Going Over The Edge For A Great Cause
Doing the right thing and helping the community goes all the way up to the top with Home-Tech CEO and good guy, Steve Marino, who just recently went "Over the Edge" for Junior Achievement of Southwest Florida. On Friday the 13th, he had all the luck he needed when he hung over the roof of the Naples Grande Hotel and then rappelled his way down the 18-story structure in an effort to raise funds and awareness for Junior Achievement.
So, whether it's the roof of a hotel or it's your front yard, the Home-Tech good guys are everywhere.
How to Schedule
If you're in need of a good guy to service your broken AC unit or major appliance, our technicians are here to help!
We can provide immediate aid to your home in Sarasota or Manatee Counties, 7 days a week. And, we offer emergency service when you need relief from the heat most.