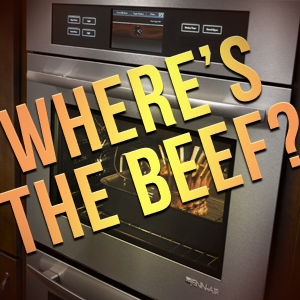 Last week, we here at Home-Tech were more than happy to celebrate "Where's the Beef Day" – a day to honor good old-fashioned American meat. Sure, we love our veggies, and fruits, and grains. But, sometimes greens and wheat germ and beets can get monotonous and we crave some perfectly cooked, amazingly seasoned meat.
Where's The Chef?
Typically, the beef craving sends us on the "Where's the Beef?" hunt around Southwest Florida – and the good news is, our area is chock full of fabulous restaurants that embrace the new trend of organic, grass-fed, locally raised beef – and the rock star chefs around these parts roll out some delicious, creative ways to prepare and cook it. But, here's the typical beef about that – it's season in our little corner of paradise, which makes for traffic on the roads and long lines at the restaurants. Not only that, when's the last time you ordered a nice steak in a fancy restaurant? If you enjoyed wine and dessert with your meal, your check probably made your Comcast bill look low.
Perfect Oven – Perfect Beef
When you go looking for the beef, check your own refrigerator, and then cook it in your own oven. At Home-Tech, we're big fans of the Whirlpool Pyrolitic Single Oven (AKXM 755 IX). This popular oven is all the rage with folks who are discovering their inner Top Chefs and creating inspiring, better-than-restaurant dishes – especially when it comes to cooking beef. Why? One of its many features is a grill-turn spit that cooks your meat exactly the way you love it – there's no room for error. With a beautiful stainless steel finish and quadruple glazed door, this 67-liter oven will add style and convenience to your kitchen. The convection function means evenly cooked foods while saving energy – and the Pyrolitic cleaning function burns away messes in a flash.  Stop by our beautiful showroom on Lena Road to learn more about the latest in ovens and cooking.
Here's the Beef!
Once you've found the beef and started cooking with your innovative new oven – here's a recipe to get you going on your quest for the perfect tasting beef (and you'll still have enough money in your bank account to pay that Comcast bill).
Southwestern Crusted Roast Beef
6-8 servings (for a dinner party – or for lots of leftovers for tasty roast beef sandwiches – you choose!)
3 pounds center cut top sirloin beef roast
1/3 cup honey mustard
2 tablespoons kosher salt
1 tablespoon chili powder
4 teaspoons cumin
3 teaspoons smoked paprika
2 teaspoons granulated garlic or garlic powder
1 teaspoon granulated onion or onion powder
1 teaspoon cayenne pepper
Stir together the salt, chili powder, cumin, paprika, garlic powder, onion powder, and cayenne. Tie the roast with cooking twine (tying isn't required, but it will help ensure an evenly cooked roast.) Set the roast on a rack over a baking tray or inside a roasting pan. Use a cooking brush to coat the roast well with the honey mustard. Place the roast fat side down and sprinkle the roast with 1/3 of the spices. Turn the roast over, so the fat side is on top, and sprinkle the top and sides with the remaining spices. Sprinkle the roast until the spices no longer stick to it.
Make sure the roast is still fat side up and cover lightly with plastic wrap and refrigerate 8 hours or overnight.
Remove the roast from the refrigerator and set it on the counter about half an hour before cooking. (You can also cook it straight from the refrigerator, just expect to add a few minutes cooking time.)
Preheat the oven to 475 degrees. Uncover the roast and place it in the center of the very hot oven. Roast for 15 minutes, then reduce the temperature to 300 degrees, continue cooking for 45 minutes, or just until the roast hits 130 degrees. Remove from the oven and let the meat rest for at least 15 minutes before slicing. Enjoy!