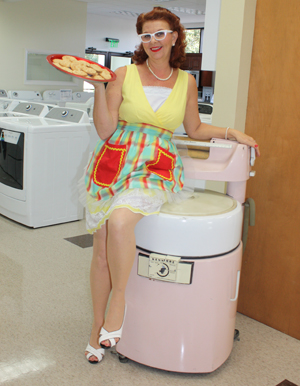 At Home-Tech we hear the same sad tale over and over again from our Members. They come shopping in our Member Appliance Center because they are tired of their old appliances. They bought a house or condo and inherited a kitchen full that they just don't love. Even though our Service Agreement Members have repair coverage for older model appliances, that doesn't mean they really want them or want to keep them. We hear all the time, especially from the ladies, "I wish your technician would be unable to fix it so I could get a new one."
Home-Tech has the perfect ending to this story  – our special Member pricing and our new Equipment Purchase Option. You can learn more about saving thousands of dollars on replacement equipment on our Options page.
Things You Might Not Know if You Have Old Appliances
Dishwashers are supposed to be quiet, get your dishes clean without pre-rinsing and shouldn't use that much water or energy.
Washers should not shred your clothing and should not use that much water or energy to get your clothing clean.
Dryers should have a steam/refresh cycle so you don't have to iron anymore.
Refrigerators should have working  ice makers and water purifiers in them and storage areas to keep produce fresh.
Freezers should not have to be de-frosted.
Ovens can clean themselves!
Microwaves don't have to sit on the counter top anymore and can cook convection style.
Home-Tech Rebate Center
Each month Home-Tech's online appliance website updates its Rebate Center to include all of the latest rebates from the manufacturers. These rebates can be added to your Member discount or Equipment Purchase Option price. This makes replacing old appliances very affordable. So why wait? Stop by one of our Member Appliance Centers and see what's new in the world of appliances. We think you'll be glad you did.