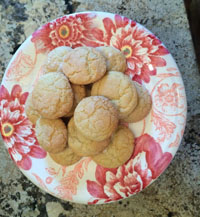 Why is it that everything that tastes so good is allegedly so bad for us? Seriously, have you ever met a carb you didn't like? And gluten – gluten is in everything from salad dressing to Triscuits – avoiding gluten is like trying to avoid oxygen – it's impossible. Sure, we can buy no-carb foods and gluten-free products, but they all taste exactly like slightly salted cardboard or somewhat seasoned sand. And now, Dr. Oz and all the other "experts" are trying to convince us to cut out sugar and that's where we MUST draw the line – especially today – holidays should be respected and today is, after all, National Sugar Cookie Day.
We know that Sarasota and Manatee residents have been flocking to our friends at the  Short Giraffe bakery which focuses on small batches rather than massive quantity…. their maple bacon cookie sammie is heavenly. But if you want to bake cookies yourself and bake them to heavenly perfection, keep reading.
Sugar Satisfaction
Sugar Cookies are not only tasty treats filled with sweet flavor, they're also good for you! Studies show that rewarding yourself with a guilty pleasure now and then helps to reduce stress and increase endorphin levels (take that, Dr. Oz). And when it comes to making the perfect Sugar Cookie, bakers actually prefer convection ovens for that lightly crisp on the outside, soft and moist on the inside effect that turns a simple Sugar Cookie into a gourmet delight!
Give Me Some Sugar – Home-Tech Style, Convection Oven Perfection
Home-Tech boasts a variety of Convection Ovens – and when it comes to dependability, you can trust Maytag. Check out their 27" Double Wall Oven with EvenAir True Convection (model # MEW9627DS). This sleek, stainless steel appliance features EvenAir True Convection, which uses powerful heating to bring out the flavors in any meal.
Home-Tech is also proud to carry G.E. products, including the G.E. Café Series 30" Built-In Double Convection Wall Oven (model # CT959STSS). With Convection Bake and Convection Roast in both ovens and glass touch controls; this oven is all about versatility. Finally, the Thermador Professional Steam and Convection Oven (model # PSO301M) will defrost, steam, proof, bake, slow cook and reheat—the oven's performance and flexibility are unmatched. You can learn more about all of the convection ovens we sell in our beautiful appliance showroom on Lena Road by Lakewood Ranch or visit our online appliance store.
Convection Confections
So get out the carbs, the gluten, and most importantly, the sugar – and let's celebrate National Sugar Cookie day!
Perfect Sugar Cookies
¼ cup solid vegetable shortening
½ cup sugar
1 egg
¼ teaspoon vanilla
1-cup flour
¾ teaspoon baking powder
Sugar
Preheat convection oven to 325 degrees.
In a mixing bowl combine the shortening and the sugar.  Using an electric mixer cream these 2 ingredients together.
Add the egg and vanilla to the creamed mixture.  Using an electric mixer beat this mixture for about 1 minute.
In another bowl mix the flour and baking powder together.
Gradually add the dry ingredients to the creamed mixture, using an electric mixer, mix well.
Chill the dough.
Lightly cover the rolling pin with powdered sugar.
Divide the dough in half.
Shape each half of the dough into a ball.
Coat the dough ball with powdered sugar.
Using the rolling pin, roll the dough out until it is ¼ inch thick.
Cut the cookies out from the dough with a cookie cutter.
Place the cookies on an ungreased baking sheet.
Repeat step 10 –13 with the other half of the dough.
Lightly sprinkle sugar on top of the cookies.
Bake for 8 minutes in a convection oven at 325 degrees.
Remove to a wire rack to cool.